List Building Challenge #6 – Real campaign, real metrics
Today, I'm going to share another strategy to build your list much more effectively. In fact, it works very, VERY well. It will, however, cost you a bit of money. But, the way I see it, if you're one that is seeking to avoid any form of spending, you've already cut yourself off at the knees.
To give you an idea how well it works, here's a quick graph of the overall trend of my own personal list growth over the last 8 weeks:
My list growth trend was rather flat while I was out traveling in the RV all summer. I didn't really have any major list building campaigns in effect. The business was just… coasting. But, as you can see, when I got back, I started things up again and you can clearly see the spike.
Get THE EDGE Sent To You Every Monday!
Be sure to subscribe (for free) to have The Edge sent to you automatically every Monday morning. There's some extra goodies in the email version you won't find here in the archives. Just sayin'. 🙂
You will not be redirected from this post when you subscribe, so you can keep reading.
Now, there's a few things I did, but most of that spike is due to a single ad campaign that I re-started on Facebook. Specifically, it is an ad for one of my more popular lead magnets: The 90 Day Online Business Startup Plan. Here's the actual ad: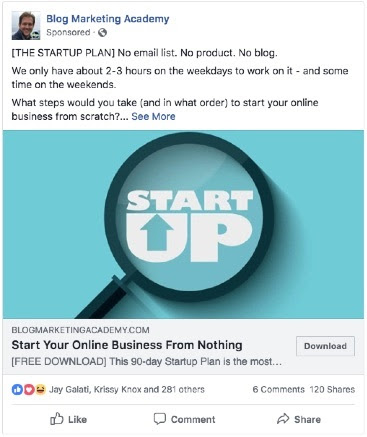 You can either point the ad to your landing page or you can use a Lead Ad. Personally, I'm using a Lead Ad right now. This means they're opting in directly on Facebook without actually leaving the site.
For the ad targeting, I selected people in the United States, over 30, and with interests of some of the "competitors" in my market.
Over the last week, I'm averaging a cost per lead of $0.80. It has gone as low as $0.36… likely because it had a sudden spike in organic, viral sharing.
Anyway, I'm not going to get into the nitty gritty on how to set up a Facebook ad campaign. I have an entire training on that inside The Lab in the form of the Facebook Ads Blueprint.
The "big picture" here is a simple one, though…
I'm taking one of my most popular lead magnets and I'm specifically giving it a massive boost to new people who aren't connected with me, but are very likely to be interested in what I do here.
And, of course, there is a quick offer for them after they opt-in. That's a necessity in order to make this not just a matter of spending, but more of an actual investment in activity. After all, traffic today is SOLVED by monetization. Monetization isn't solved by traffic. Most bloggers have it totally backwards.
For a lot of blog owners, it is easy for your email list growth to remain quite flat-lined. But, that's because they're exclusively depending on their blog to do all the list building.
There's no reason to limit yourself just to people who happen to come by.
If you get out there and specifically reach out to new people, you'll grow your list MUCH faster.
– David